Thank you for placing an order with us!
Average Order Arrival Depending on Country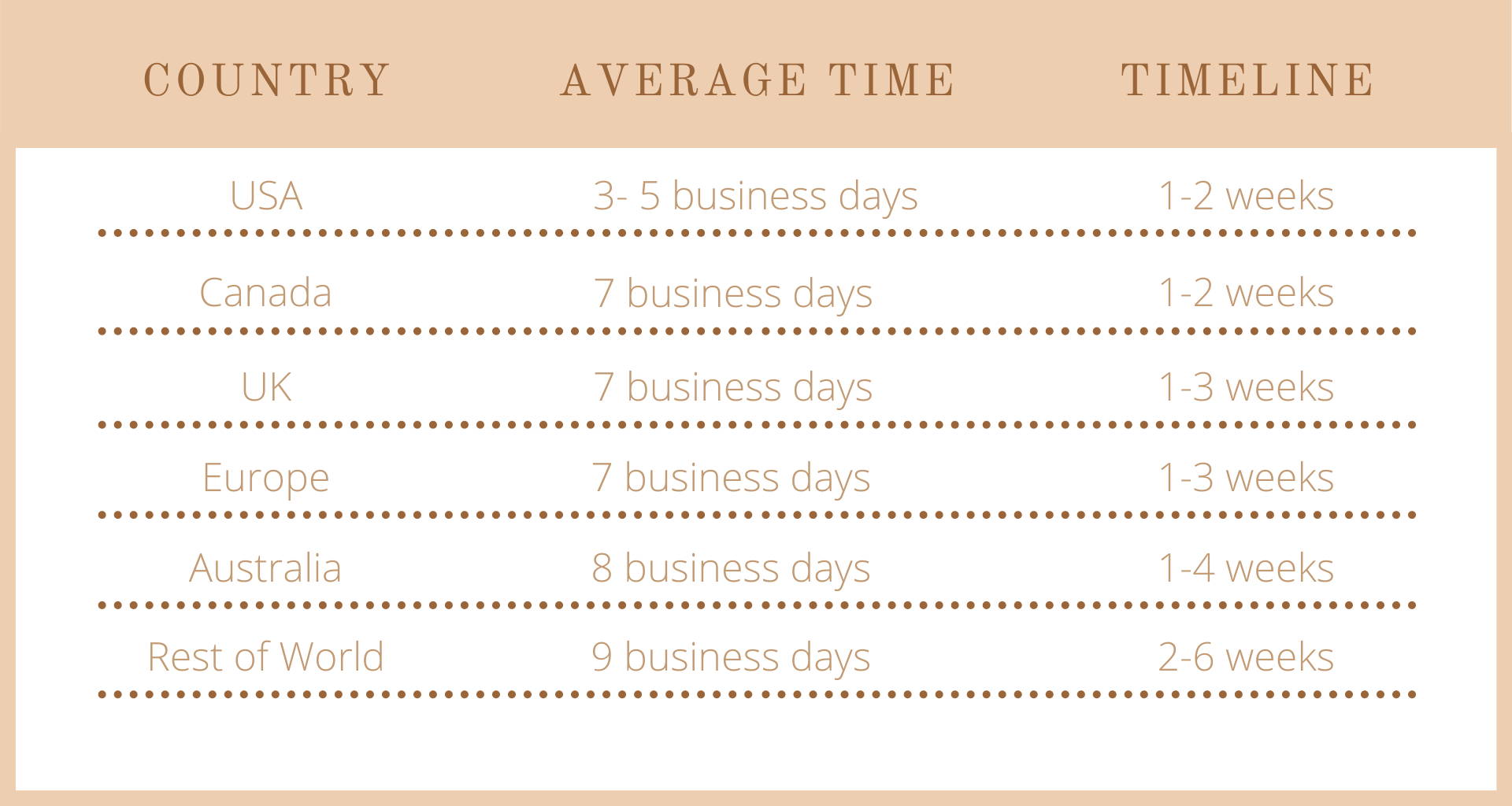 We love a good 2-for-1 so it was only natural that our packaging doubles as storage! All jewelry comes with a velvet pouch + jewelry box and every handbag comes with a cotton dust bag for easy storing!
One woman team at your immediate service to answer any and all your questions- average response time is within 1 hour.
Orders for shipments within the U.S. will be processed in 1-5 business days from order date orders are made per order. Business days are Monday through Friday, and exclude certain holidays. Please allow an additional 2-10 business days for USPS Ground shipments.
Shipping charges will be processed with your order and charged at the time of purchase. Eligibility for free shipping is accounted for before taxes and after all voucher and discount codes are applied.
CJA will ship internationally for an additional, non-refundable fee automatically calculated (by the courier service) by the weight and the final destination of the order.
CJA will not be responsible for any problems encountered with delivery due to customs procedures or clearance. We will provide certain order, shipment, and product information, to our international carriers or to customs or postal authorities, in order to facilitate customs clearance and comply with local laws. The recipient of the shipment is responsible for any taxes, customs duties and fees that may be applied be the destination state or country.
Shipping and delivery may take short or longer from time to time depending on the speed of customs at the time of arrival.
Customers in the United States and Canada will be able to track their order using the mobile app Arrive which is available for iOS and Android devices. The app will update you about the status or your order as well as send delivery notifications while using real-time data. This will allow you to stay up to the exact minute of your order so it is very important to allow notifications for the app once downloaded on your mobil. Once downloaded and enabled, customers will have their order information automatically synched from our website.
However, at this moment, the app does not support tracking orders outside the US and Canada region. Shipments sent by carrier (UPS, USPS, or FedEx) outside these regions can be tracked by visiting their websites and entering the tracking number sent in the email confirming your order's shipment.
Delivery times are estimated to be 14-21 business days for pre-orders, but please note that delivery time may vary substantially depending on time spent in customs and quantity available versus demand.
If an item goes on back order we will ship you the part of your order that is in stock. When the item becomes available we will ship you the rest of your order. You will not be charged any additional shipping and handling for the second shipment.
We are committed to ensuring your satisfaction. Please send us an email at service@caramela-ja.com if you're unsure about your order. We're more than happy to help!